Hello!
I'm bad at keeping this on a steady posting schedule, and I'm sorry but it won't ever be consistent until I'm actually in London. Even then, it'll depend on how much sleep I may or may not need that day. Anyways, it's been a rough few days since we last spoke so I came back here to remind me of what I'm supposed to be looking forward to! I think that's really what this is going to turn out to be, a place for me to go when I need to think of happy things. By myself it's a bit harder, the mind wanders off to the disappointing if I'm left to my own devices for too long, but this gives me purpose. This gives me a way to write it all down and focus only on London. Which is nice.
So anyways on this trip to London, I'm really
really
excited for the clothes I'm going to get to wear and buy. My friend over at
Across the Pond
has talked to me about having to wear cute clothes all time time and I'm going to be honest, after that I stopped listening and started thinking of all the fashion blogs I'd seen in passing, most of which were based in the fantastic United Kingdom! Coincidence? I think not.
After this first conversation I went away in search of these blogs in hopes that I had pinned them on my Pinterest or liked them on my stumbleupon account and after much searching I found a few of them. Which led me to a few more. And now I follow a few of them because seeing them in their cute clothes gets me even more excited for this trip!
This searching has also left me, for lack of better words, disappointed in my own wardrobe for everyday attire. I understand not everyone can dress up every day, but I do enjoy putting on a dress and heels and fixing my hair and feeling like a million bucks. In general the average day for Pat goes something like this:
Wake up. That's the sad part of the day because I really love sleep. Get dressed in 5 minutes. Get in the car go to class. At this point it needs to be noted it's lucky if I'm combed through my hair and put pants on. Let's be honest.
I go to class. Honestly, at my school there's no one I really have the desire to impress. Every now and then I have a few awkward encounters with people I know, but over all it's basically me going to class and going home. I know, I'm living the college life. Please stop asking me to stop my partying ways. I didn't choose the thug life, the thug life chose me.
What I'm actually saying.
I go to work. My wardrobe consists of work shirt, jeans, and old running shoes from high school. Everyday. My outlook recently has been: What's the point of dressing up for school when I'm only going to turn around and change like...five minutes later into work clothes. There is no point. So I just skip the looking nice part indefinitely because when I get home you better believe it's comfy clothes all around.
And those are my days. I do have the occasional casual clothes I'm semi-proud of, but for the most part that area of my wardrobe could do with a little more improvement. My dress department...well, it's pretty solid. The only problem with dresses is that eventually you have to shave your legs or buy pretty tights. It's winter fools. That's all I'm saying on
that
.
I'm not saying that London is going to be my magical ticket to the best wardrobe ever, cause it's not. We must keep in mind that I'm horribly cheap when it comes to buying things for myself. Seriously, I can barely justify buying a 10 dollar dress for myself sometimes. It's that bad. But I feel just being around so many wonderful options of places to actually buy things, perhaps I'll become a bit more lenient about prices. Not too much though. Don't want to get too crazy.
Here's my list of stores I would like to visit before my time in London is up in no particular order:
1. Beyond Retro*
"One of London's vintage originators, Beyond Retro is now a world leader in second hand retailing. It's actually a massive clothes recycling brand, which buys truckloads of charity clothing and exports it to the third world. It picks out the best bits for its vintage stores, which are some of the most gargantuan in the capital. The original Cheshire Street branch is an old dairy, and has a cavernous feel to it, with armfuls of product merchandised by type - Hawaiian shirts here, dungarees there. Over in the new branch in Dalston, which is one of the largest vintage stores in the world, you'll find similar items but in a jazzier environment, with product filling every inch of a vast old factory, complete with a café and stage for impromptu performance" TimeOut London
Look how pretty it all looks! They even have a website for buying things! I'm pretty sure I could probably spend a few hours easily in each of these shops and it makes me super excited.
Google Street View, you truly are amazing
2. Absolute Vintage*
"Absolute Vintage may be a stretch away from the crowds of Brick Lane, but that doesn't stop it filling up, and with its cluttered display of goods, browsing can get tiresome. However, clothes start from a fiver upwards here and you can easily throw together an outfit for under £100 - although you'd be wise to exercise some quality control. The cracked shoe soles and faded colours take some patience to sift through, and boots are overpriced at £50 or £60. But the quantity of goods makes up for the quality, and there's a great cabinet filled with hard to find Chanel bags." TimeOut London
Can I just be there now? I know I probably won't be able to hit all of these spots, as I haven't even gotten to the Charity Shops, Car-Boot Sales, or even Portobello Road or Columbia Road Flower Market. At this rate, it might just be best if I stick behind and live out the rest of my life in the wonderful UK.
3. Wow Retro
"This airy secondhand store is filled – but not overstuffed – with affordable garments. Unusually, the men's section is up front, offering a choice selection of leather jackets, suit blazers (from £40), cool army coats and surprisingly, football shirts. The womenswear ranges from the '40s-'00s, although the last two decades err on tatty. There's a smattering of slightly dated designer clobber from Prada and Mui Mui, as well as Burberry trenches from £125 and Liberty print dresses from £30. If you're in the area, check out the additional men's and women's Wow Retro branches on Mercer Street, but don't expect to find pristine vintage; these items are well loved as opposed to lovingly preserved." TimeOut London
This one looks cozy in the I won't feel completely uncomfortable walking in like the other two might make me. The other two intimidate me, this one looks comfortable.
4. Cafe Vintage*
"Tucked away on the largely residential Mountgrove Road, Cafe Vintage joins a petite parade of independent shops. Sisters Aysha Sparks and Nadia Allman head up the bijou boutique-café crossover and offer a distinctly nostalgic nod to 1940s Britain. The charming café (featuring homemade, retro-influenced cakes and artisan breads) leads to a small backroom rammed with personally selected, washed and ironed vintage. The wartime era is well represented here, but '80s and '90s outfits, shoes and accessories also feature and, though the space is small, a good scour is usually well rewarded. If you have spare threads yourself, Cafe Vintage also runs a competitive consignment service, with 50 per cent of the sales price going back to the seller." TimeOut London
Do you see that? Do you see how cute that store looks?? I can have tea and cake here! TEA!!! Do you understand how British that is? I think you do.
5. Camden Thrift Store
"Clothing and accessories are piled up on every surface of this long, narrow shop in Chalk Farm Road, but don't be put off by the madcap merchandising. While this store is lacking a little in presentation, the varied stock and helpful owner more than compensate. She'll ask what you're looking for and pull out several items for you to try on - a rare service in vintage shops. We were tempted by an immaculate '60s A-line pure wool dress, for £25; as well as a '70s coat suit at £30. The quality of some items is a bit hit and miss, but, with bags for £10 to £20 and tops starting at £10, prices are reasonable for the area." TimeOut London
Are you seeing how adorably small that is? Cause I am and I am loving it! I also would like to point out that down the road past the Subway is a place called Chalk Farm Antiques. Nifty? Yes. Yes it is. Thank you Google Maps.
Well...nice try Google Street view.
6. Episode
"This easygoing store could do with a tidy up (Converse sneakers, £21, were strewn on the floor at our last visit), but it's a cheap and unpretentious place. Episode is an Amsterdam-based chain and stocks mostly European brands. There's a uniform price policy, so all dresses are £21, whether it's a Paula Yates-style fuchsia and black cocktail frock, or an on-trend orange and brown paisley shift. It's the place to go for hats, especially berets (£8.50), and accessories in general; gloves are £12.50, bags £21.This is a warehouse and dead-stock outlet, rather than a hand-picked experience, but everything is well displayed and it's easy to locate what you're looking for."
The thing that makes me happy about this store is that Google Maps was just like...HAHA! You thought that would work for every store? Peasant. But still, I suppose it's nice to know there's a bus stop there. And besides, it sounds reasonably priced. A little on the high side for the likes of me, but reasonable in comparison to other places.
7. Persiflage
"If you're unfamiliar with the rabbit warren layout of Alfies Antiques Market it can be daunting, so we recommend a beeline for the cosy vintage shop on the second floor. Owned by Gwyneth Trefor-Jones, who is also responsible for Essex Road boutique Past Caring, Persiflage has been going for an amazing 25 years and is frequented by fashion students, stylists and even, apparently, Whoopi Goldberg. The shop features a wide variety of pieces from the '20s right through to the '80s, as well as Victorian items, with prices ranging from £30 to £200. If you're into restoring or recreating vintage clothing, then you'll love Persiflage's secondhand lace, buttons, beads and sequins, as well as sewing patterns and books on how to become an expert dressmaker." TimeOut London
This one interests me for that last sentence, as I would love to become an expert dressmaker! Do you understand how ridiculously hard it is for me to find clothes my size? Let alone vintage clothes my size? I was unfortunately cursed with a chest and back side and you know...hips. All of which I find horribly difficult to fit into clothes. And besides, I'd really like to go to Alfies Antique Market anyway, so it's basically a while I'm in the neighborhood situation I have going down here.
7.5 Velvet Atelier (Downton Abbey Clothes!)*
"Owners Anna and Mike recently moved from the second floor to the ground floor of Alfies Antique Market, giving them a street-facing shopfront. Velvet Atelier is already a favourite with the 'Downton Abbey' wardrobe department and designers such as Nicole Fahri because of pieces like a '20s flapper dress or a '50s creation by Marilyn Monroe's designer Ceil Chapman. They can also be rented for 20 per cent of their cost, a great option for brides-to-be who only need one day in white. If you're after something a little more contemporary, the shop also stocks a carefully chosen selection of '80s and '90s pieces from the likes of Moschino, Vivienne Westwood, Oscar de la Renta and Alexander McQueen." TimeOut London
I only have a desire to go to that one beacuse I mean...juts knowing clothes for Lady Mary could've been picked out from there makes me smile. I'm sure I could never afford anything there, but just eye candy is nice sometimes.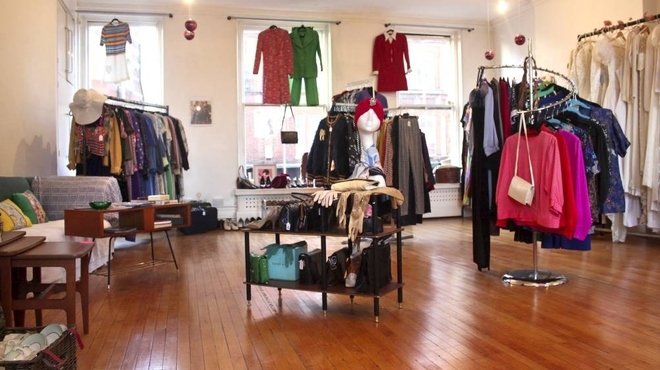 8. Annie in the Attic
"If you love the more eccentric and outrageous side of vintage dressing, this South London store hidden above a hairdressers on Balham High Street is just the place. Set up by the mother and daughter team behind monthly local fair The Vintage Event, Annie In The Attic brings together wild frocks, bright and bold shirts and skirts and an excellent selection of men's suits, all ranging from the'60s to the'90s. There are plenty of bonkers (and really quite cheap) finds here, though you might also come across the odd more pricey designer item - we spotted a Biba jumpsuit and even a pair of ancient Manolo Blahniks." TimeOut London
It looks nice. And it has cheap in the description. That's always nice too.
9. The Beehive*
"With its leopard skin ceiling, racks of vinyl and rails of retro fashion, The Beehive is a colourful Greenwich must see. Crimplene enthusiast and store owner Deborah loves the '60s , but gears her buying towards the local student population, whose idea of vintage is the era in which they were born. Rails are lined with high waisted Levi's jean shorts at £20 a pair, Peter Pan collared cardigans at £15 and quilted patterned jackets at £35. There is even a trunk full of shirts, scarves and other accessories where each item is £1 for those that are still waiting for their student loan to come through." TimeOut London
Dollar trunk? Heck yes please.
10. Vintagehart*
"Combining two of our favourite things, Vintagehart is located in a pub. The hanging space is surprisingly small considering the quality of the hand-picked stock. Owners Dawn and Annette select bright, bold dresses in the ubiquitous Mad Men style, but clothing covers the '40s to the '80's, plus Young@hart - a great range of retro chic for under 5s. Look out for Dawn's own line of bespoke, vintage-inspired hats from £30 to £50, commissioned for £65." TimeOut London
Those are two of my favorite things too!!! Sounds like a trip to me! :)
11. Blitz *
"Blitz opened in 2011, and instantly put the other vintage shops in the capital to shame. This is a vintage department store, covering all floors of a glorious old furniture factory. The building itself is jaw-dropping, and has been renovated beautifully by the Blitz team. Floors are clearly merchandised with a furniture selection from Broadway Market's The Dog & Wardrobe, an accessories floor, a book collection and rails and rails of neatly presented fashion. Buyers Jan Skinners and John Howlin look to nearby Brick Lane for their inspiration, buying immaculate seersucker blazers, coloured denim, brogues and silk kimonos for their fashion focused clientele. The selection is all killer and no filler - and cleaned, steamed and folded before it hits the shop floor." TimeOut London
I just...there are multiple stories...I can't even handle this information.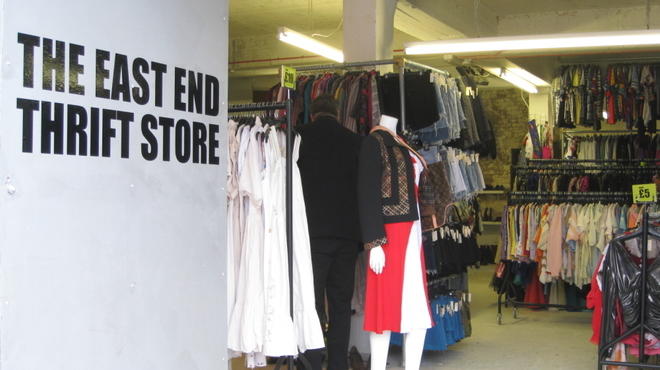 12. East End Thrift Store*
"The straightforward idea behind the EETS is to provide good value vintage - which is becoming a bit of rarity in the capital. The owners come from the Topman stable, and have a good feel for current trends. You'll find lots of vintage denim shirts for £15 and jackets for £25, as well as leather skirts and cheap £10 party frocks. To bring you prices this cheap, money has been saved on decor - by which we mean to say, there isn't any. But while the converted old Stepney warehouse isn't pretty, it is functional. The first floor now sells more expensive product and the odd designer piece. Join the mailing list to hear about frequent sales and super cheap jumble events." TimeOut London\
Just clothes and no decorations? Sounds like me. I don't need the store itself to look pretty as long as the stuff I'm buying is pretty! So it all works out.
13. Rokit *
"If you can endure the loud, abrasive music blaring from either Rokits then you stand a good chance of bagging a bargain, because a lot of its clothes are £40 or under. Rokit isn't the industry star it once was, with its best product spread thinly across its many new stores, but there are still good pieces to be found. The chain also has its own line of vintage inspired garments - including Breton tops and jewellery - we rather like the gaudy leopard-head ring for £12. There's also a great selection for men at No. 101; half of the shop is dedicated to the male frame with denim jackets, coats and masses of jeans for him."
I can endure for clothes under £40!
And so that's my first installment of vintagey stores. This one took much longer to type up than I originally thought it would. Granted I lost an eBay auction while typing up and got distracted by tumblr a few times...that's beside the point. Anyways, I hope you guys have a better day or however long it is until I write next then I have recently. Let's hope something gets better!
Thanks for listening!
-Pat-